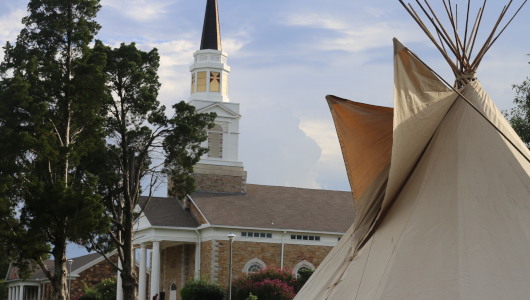 Become a Warrior!
Your World will never be the same…
For 139 years, Bacone College has served as more than another building of higher education. Founded as Indian University in 1880, the school began classes in "Indian Territory" well before Oklahoma was formed.
Today, four Oklahoma Tribes charter Bacone College. They are the United Keetoowah Band of Cherokee Indians of Oklahoma, Osage Nation, Otoe-Missouria Tribe, and Cheyenne & Arapaho Tribes.
Bacone College was not formed as an "ivory tower" escape from the world.  Instead, it was planted in the midst of upheaval and conflict. Bacone was founded to inspire students to rise above the injustices of their day. 
Today, our student body includes women and men from diverse backgrounds: Tribal, Hispanic, African-American, and Anglo. Likewise, the best of our Christian heritage undergirds our life together  – without mandating it for anyone. 
Bacone was founded to equip students to not just enter the world — but to help them transform their world.  Our students still are given the knowledge, skills, and abilities to serve as successful leaders – now in the 21st Century.  Join us!
Join the long line of Bacone Warriors:
Men & Women who proudly have fought for every opportunity.
Your Areas of Study at Bacone
Want more information on how you can succeed at Bacone?  Tell us your interests, and we will send you more information!
Interested in becoming a Warrior Athlete?

Note: This new site is "under construction" as an authorized temporary extension of bacone.edu.
All feedback is welcome.  

Thank you for your patience during the transition.